i guess. i made this a while back and gave it to my friend Angie. i never took pics of it, so here goes. it's a boo banner... :) i like saying that. boo banner.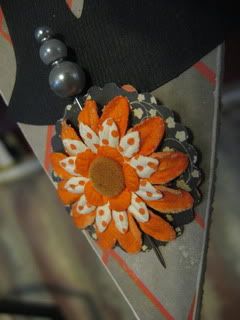 boo banner!
stole the laptop for a bit but still had to upload photos to photobucket. don't feel like figuring out photoshop in 15 minutes to crop/compress the pics. like figuring out photoshop could happen in 15 minutes.
mich received the good citizenship award again! what a kid! he really is a good child. who can't keep his room clean and goes from A honor roll to not getting on any honor roll at all this time b/c of a 78 in science!!! in science no less!!! what the heck??? really, he got one bad grade. on some ridiculous 'flu symptoms' quiz that had information about vaccines, placebos, and what not. what 2nd grader needs to know that crap? really irritates me to no end:
and, maybe i'm being sexist...but where are all the male teachers? it's all women in my child's school and i really don't like that. at least the principal is male. sorry. i'll stop rambling. on to more pics...
oster, being all sun-shiney:
playing in the leaves at angie's with her kids and aimee's kids:
at our new mcdonald's. the decor in this one is pretty special. i read in the paper that the owners had it specially designed to fit our town. there is no other mcdonald's like this one....
but....unfortunately, they CANNOT SPELL!!! how horrible is this???
having a little fun at soccer pics:
hope everyone had a marvelous monday!!!